Sonning Village - Sonning Twinning Association
The Sonning Twinning Association was created by Charter in September 1995. Its purpose is "to promote and foster friendship and understanding between people of Sonning and those of Ligugé in la Vienne, France".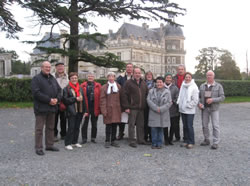 For general enquiries, contact Lesley Green - lesley.green@zen.co.uk or 0118 969 6621.
For membership enquiries, contact Trefor Fisher - trefor.fisher@hotmail.com or 0118 969 3279.